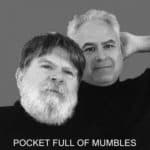 Just as Paul Simon's career is winding down down, Pocket Full of Mumbles (PFOM) — having debuted July 5 at Andy's Old Port Pub in Portland, with a follow-up appearance Friday, Aug. 10 at The Blue Coffee House in Kennebunk (5:30-7:30 p.m.) — is just getting started. As the ironies and serendipities pile up, we find them difficult to ignore.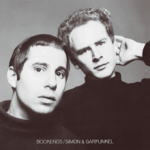 Granted, at this point Big Data in general may be more familiar with New Gloucester-based PFOM's intentions than the band's would-be adoring public. PFOM principals Mike Conant and Hal Phillips have been Googling Simon & Garfunkel lyrics and chords for the past year, preparing for this moment. And so they have also been bombarded with data-driven news re. Simon's farewell tour, now passing through Europe before concluding in Queens Sept. 22. The diminutive one will release his new album, In the Blue Light, on Sept. 7, to coincide with the final leg of "Homeward Bound — The Farewell Tour".
This glut of Simon news, retrospective and otherwise, is not mere happenstance. It has further informed and solidified the PFOM project. To be clear: Pocket Full of Mumbles was formed when Conant sent Phillips a text in the spring of 2017. It said, more or less, "What do you think about burnishing a bunch of Simon & Garfunkel songs to a fine glow, recording them, then taking them on the road?" From the start, they envisioned an acoustic-duo set, followed by a fully "orchestrated" set with a full band behind them. The recording portion of that grand plan will take place this winter. For now, PFOM are content to further burnish while taking the music to directly to the people, live and in person.
Conant and Phillips didn't know Paul Simon would be saying farewell in 2018. But the fact that he IS calling it quits has, by virtue of the massive media coverage, further buttressed the Pocket Full of Mumbles mission.
To cite just one example, Conant and Phillips love the way a song like Sounds of Silence stands as an iconic example of the coffee-house folk song, with its poignant and poetic lyrics delivered by a couple sensitive guys in black turtlenecks. This is the version that appeared on S&G's debut album, Wednesday Morning 3 a.m.
Yet PFOM also adores the same song, the title track from the duo's second LP, the fully orchestrated/rocked-up version.
This is exactly the dynamic PFOM aims eventually to achieve.
But there's way more to the story, and we wouldn't know it were the Internet not churning out Paul Simon retrospectives (and lining the margins of our browser sessions) with such diligence this summer.
As this Guardian piece ably relates, Wednesday Morning 3 a.m. was something of a flop. Simon, despondent, decamped for England to pursue a more pure and solo folkie career (he was also chasing a girl, Kathy Chitty, later the subject of a famous folk ballad). While away, the first album's producer, Tom Wilson — inspired by the Byrds' folk-rock hit Mr. Tambourine Man — overdubbed the original version of Sounds of Silence with guitars, drums and bass in the simple, slightly shambolic, but clearly electric style that another core folkie, Bob Dylan, had just introduced. One side of Dylan's 1965 album Bringing it All Back Home hinted at this new folk-rock direction(Subterranean Homesick Blues, Maggie's Farm) and his hit single later that year, Like a Rolling Stone, drove the point home. All of that work was produced by Tom Wilson.
Even more fun: Wilson's retrofitting of Sounds of Silence took place without the knowledge of Simon or Garfunkel.
In January 1966, this rocked-up version of Sounds of Silence reached #1 on the Billboard chart, whereupon Simon scurried home from England in order that he, Art and Tom Wilson could set about rocking up another raft of existing Simon-penned folks songs in the same manner, songs we now know as part of the Sounds of Silence album: I Am a Rock, We Got a Groovy Thing Going Baby, Richard Corey, Blessed, etc.
There are plenty of unreconstructed folk ballads on this second album: Leaves That Are Green, April Come She Will, the inimitable and aforementioned Kathy's Song. But it was Wilson who first discovered and demonstrated the flexibility, the rocked-up capabilities of these songs. Nearly 50 years on, with Paul Simon bowing out, PFOM will drive the point home.