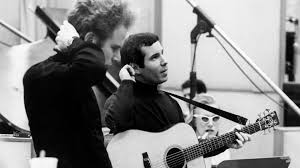 We often tell audiences that a particular tune we perform (and recently recorded, see below), "Wednesday Morning, 3 a.m.", contains perhaps the most unlikely Paul Simon lyric ever written down. Give a listen and pay special attention to the third verse… The notion that effete, petit Paul Simon would ever knock over a liquor store, or commit a violent felony of any kind, is patently absurd. The same could be said of Art Garfunkel, who is taller but no less the sensitive, urbane sophisticate.

No one claims this or any S&G song is explicitly autobiographical, but this unlikely outlaw theme is one that Simon & Garfunkel must have fancied because they resurrect and amplify it on their very next album with the song, "Somewhere They Can't Find Me".
In an earlier blog (from July 2018, see below), we remark on the fact that S&G's debut album, Wednesday Morning 3 a.m., was something of a dud. Indeed, Simon's next batch of spare folk tunes didn't thrill the executives at Columbia Records, and so he fucked off to England, with Kathy (she of the song), to concentrate on becoming the next Bob Dylan. It wasn't until producer Tom Wilson rocked up the single, "Sounds of Silence" (in post production), that S&G would reform. Indeed, this new Byrds-inspired version would go straight to #1, which led Simon, Garfunkel and Wilson to affix more orchestration to many of the remaining songs on this second album, the now iconic Sounds of Silence.
One of those cuts, "Somewhere They Can't Find Me", doesn't merely harken back to the criminal storyline detailed in the previous album's title cut; it reprises nearly the entire lyric and updates the story.
In the wistful original, our antihero narrator has committed a crime, broken the law… In the middle of the night, his girlfriend asleep at his side, he wonders aloud (amid rich harmonies) what fate the dawn will bring.
Artists will sometimes refer back to previous lyrics, dropping little references or inside jokes to the listener. But with "Somewhere" we find something quite different: Simon deploys the original "Wednesday Morning" lyric to create a brand new song. A newly inserted chorus spells out next steps: I've got to creep down the alleyway, fly down the highway…
These urgent new lyrics and tone reveal that our unlikely felon has resolved to go on the lam — Before they come and get me I'll be gone! Somewhere, where they can't find me…
It's not clear, but it seems his girlfriend may have woken up in time to hear all this. One can imagine her surprise: That this poetic, nebbish (a nice Jewish boy?) has A) robbed a liquor store; and B) now intends to elude the long arm of justice like some turtle-necked, scarf-wearing Clyde Barrow. It's all a bit grandiose but it does lead us to wonder (and further consult the S&G songbook) as to whatever happened to that guy…