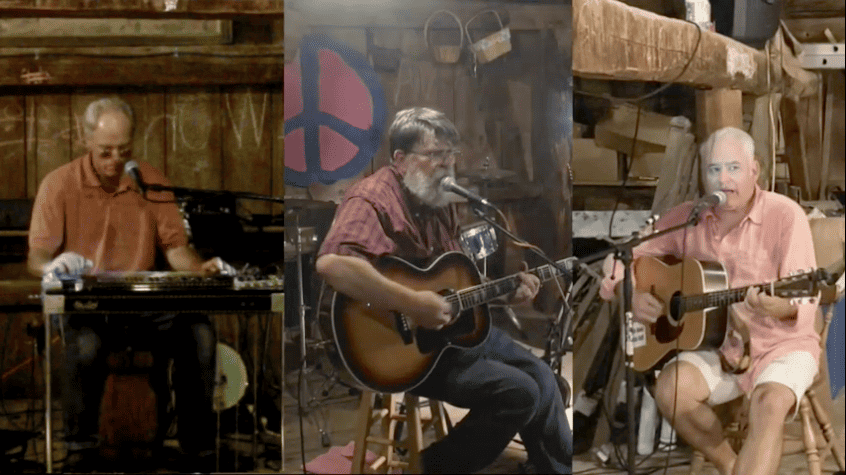 Pocket Full of Mumbles, Maine's favorite purveyors of eclectic, crowd-pleasing twang, will return to Side By Each Brewing Co. in Auburn this Friday night, June 9. Showtime is 7-10 p.m.
Pocket Full of Mumbles debuted in 2017 as a Simon & Garfunkel tribute act, featuring close harmonies and largely acoustic instrumentation from fiddler/bassist Mike Conant and guitarist Hal Phillips. Early in the pandemic, they added Tim Howie on pedal steel, Telecaster and banjo, lending amplification and twang to their portfolio of S&G and original tunes.
With a variety of guest soloists (the lovely and talented Nancy Durham will sit in on the drums this Friday), the Mumbles do indeed stock each set with eclectic crowd pleasers. On June 9, expect newly worked up selections from Warren Zevon, the Grateful Dead and Son Volt, to go along with heapin' helpings of originals, CSNY, Chris Stapleton, vintage Jackson Browne, Bob Mould, The Dillards, Ryan Adams, James Taylor, Liz Phair and Tom Petty.
Later this month, the Mumbles will play in residence at the annual Strawberry Festival, a three-day, pick-your-own extravaganza scheduled for June 22-23-24 at Pineland Farms on the Mayall Road in Gray. As it has done the last three Junes, PFOM will preside from its flatbed stage Thursday, Friday and Saturday from 4-7 p.m. The band will also play the Sebago Days festival on July 15 (2 p.m.), and the Topsham Fair Aug. 9 (11 a.m.), so mark your calendars.