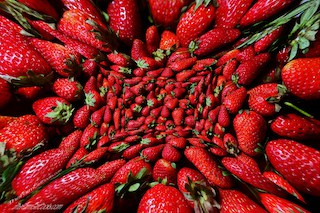 NEW GLOUCESTER — Pocket Full of Mumbles will make their public 2021 debut June 24-26 as part of the Strawberry Moon Celebration here at idyllic Gillespie Farm, the Pineland Farm location on Mayall Road. South/Central Maine's favorite alt-country interpreters of Simon & Garfunkel, Son Volt and Jackson Browne will preside Thursday, Friday and Saturday from 4-7 p.m.
Strawberry Moon has become a highlight of the pick-your-own strawberry season north of Portland. The three-day event, hosted at 752 Mayall Road in New Gloucester, features live music but also food trucks, cash bar, dessert tables, horse-drawn carriage rides and special moonlit picking hours. For more information, visit Gillespie's Facebook page or call the Farm at (207) 657-2877.
But don't overthink it: Just drop by, harvest a few quarts of delicious strawberries from the rich Maine soil, listen to the music, have a beverage and, if you need more strawberries, come back the next day and do it all again. Strawberry season in Maine is like life: All too short. So don't miss out.
The members of Pocket Full of Mumbles (PFOM) are greatly looking forward to this engagement, as the last 15 months have been very tough on musical acts in Maine and around the world. The band looks forward to communing again with its massive, devoted fan base (known as "The Mumble Core") and riding what feels like a significant wave of pent-up demand for live music.
Indeed, for PFOM, the Strawberry Moon event is only the first public event of 2021. The band has already played several private parties and looks forward to many more. Anyone interested in booking such an event should reach out at booking@pocketfullofmumbles.com.
"I don't think it's clear to anyone, at this stage of the pandemic, just how practical it is to play traditional shows inside," said PFOM fiddler/guitarist Mike Conant. "It's starting to happen, but unknowns remain: from the perspective of host venues, from the folks who might attend, and bands providing the music. We in Pocket Full of Mumbles are all vaccinated and ready to play anywhere. But we understand why clubs, fans and bands might feel differently.
"We've always played private parties because we love the casual vibe, the requests, the intimacy. And today, in 2021, they're certainly an excellent way around all those concerns, especially when they're held outside."